Have you ever checked the ingredients list before buying a shampoo? When picking out a shampoo, we often look for an incredible smell or stylish bottle. But the ugly truth about those attractive and standing out shampoo bottles is that they may have a great number of harmful ingredients inside. What shampoo ingredients are more toxic? Which chemicals inside the shampoo are less harmful? Let's figure it out together!
What's in common between a shampoo and dishwashing liquid? They both have the same chemical as a basic ingredient in their formula: detergent.
Chemical detergents are the most harmful ingredients in your shampoo.
Detergents contain agents to produce lather therefore they cope well with its main function: they eliminate waste and dust from hair in a quick and efficient manner.
However, these short-term benefits come along with long-term side effects: detergents are highly toxic, they make your hair frizzy and dry, cause scalp irritation and hair loss.
If to arrange detergents in a decreasing order of harmful impact on a person's health, we'll have the following list of most toxic ingredients to ditch:
Ammonium Lauryl Sulfate
Ammonium Laureth Sulfate
Sodium Lauryl Sulfate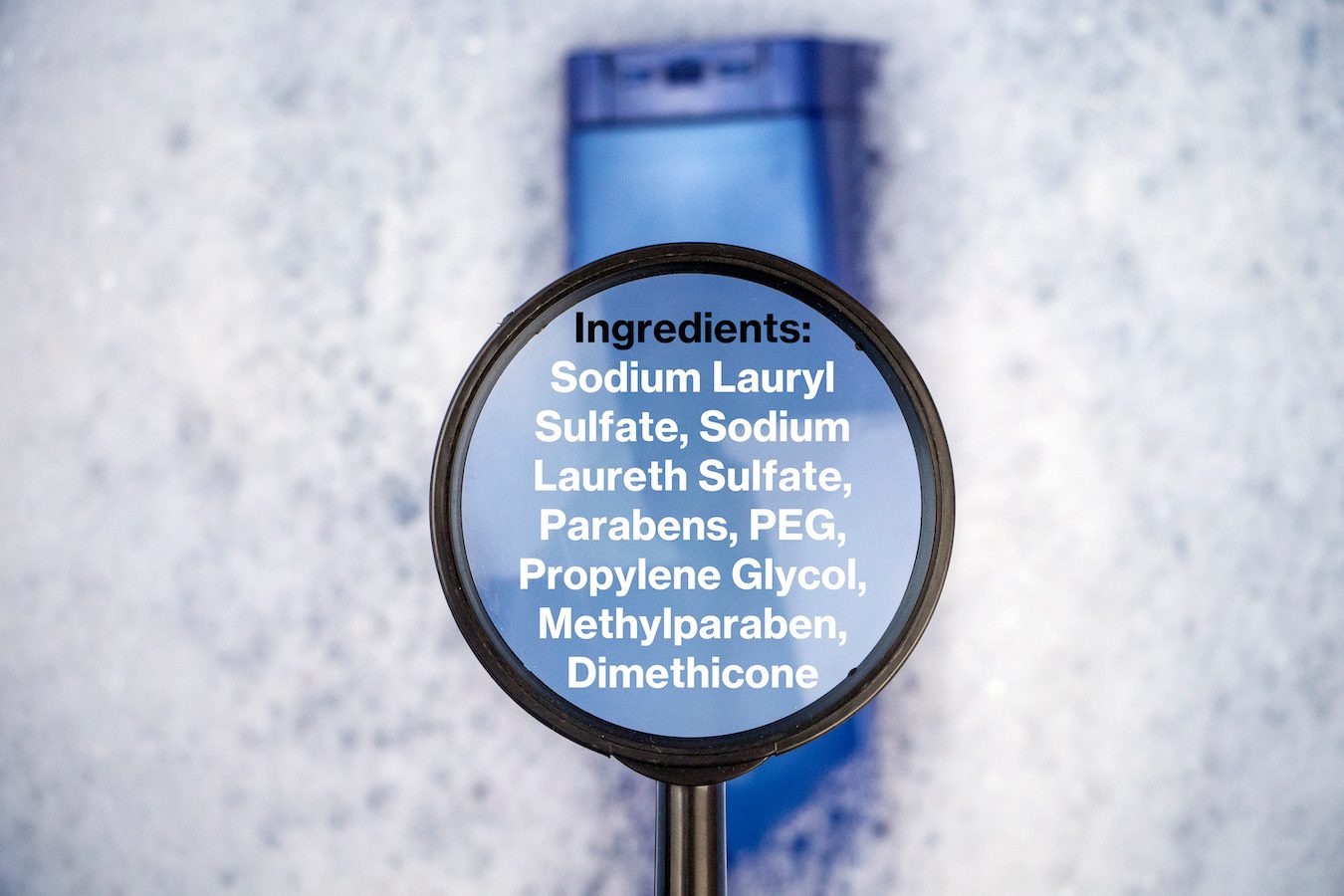 The major concern about these ingredients is that they interact and combine with other chemicals to form a carcinogen. They can be easily absorbed through the skin potentially causing immune system failure. Always read the shampoo label carefully: if you see the above mentioned chemicals in the formula, we highly recommend to stay away from this shampoo.
Less toxic detergents are the followings:
Comparing the harmful impact of this ingredient with that of Sodium Lauryl Sulfate, it's less toxic. Nevertheless, we suggest avoiding it in your shampoo formula as well.
TEA Lauril Sulfate
TEA Laureth Sulfate
The last two chemicals are more common in salon shampoo formulas and are less toxic.
Normally, shampoo manufacturers list the type of detergent at the ingredients list. It is featured at the very top of the shampoo formula.
To neutralize the harmful effect of detergents, hair care products manufacturers add some mild surfactants, solubilizing agents, foam stabilizers. These substances are generally used as conditioning ingredients and help to eliminate the toxic impact of detergents by softening hair strands.
Therefore along with considering detergents in shampoo formula, it's important to have at least some of the following ingredients inside your shampoo:
This chemical is a well-known anti-static agent. Cocamidopropyl Betaine is a compound derived from two substances: coconut oil and dimethylaminopropylamine.
Cocamidopropyl Betaine is widely used in baby shampoo formulas.
This ingredient is obtained from 100% renewable raw materials, namely corn and coconuts.Decyl polyglucose prevents scalp and hair dryness caused by aggressive detergents. It's suitable for sensitive skin.
Glycereth2-Cocoate is proved to be a super mild surfactant of natural origin.
Disodium Cocoamphodiacetate
This surfactant works as a mild foaming agent and it is highly valued for cleansing hair without stripping away all natural sebum from your hair
The reality is that the main function of each and every shampoo is that of a detergent designed to remove waste and sebum from your scalp and hair. Perusing the ingredients list of your shampoo is a great step towards scalp and hair health. Obviously, you should ditch the following most toxic ingredients: Ammonium Lauryl Sulfate, Ammonium Laureth Sulfate, Sodium Lauryl Sulfate.